So I've decided to partake in this Valentine's Day Box Swap and I couldn't be more excited!
If you head on over to either:
2. Sign ups will run from now until

January 12th

!
3. We will announce the pairs on

January 14th

! After the pairs are announced, you have 48 hours to contact your partner! If you don't get in contact with your partner, email darlingprepster@gmail.com and we will find you a new partner! Get to know your partner and make a new friend! Learn her likes and dislikes, favorites, etc!
4. Each box should be a minimum of $10! If you want to spend more, that's wonderful! I'm sure your partner will love you even more!
5. You must mail your box by

February 2nd

! Make sure to get a tracking number for your package so we can confirm you sent a package in case it gets lost in the mail!
6. Write a post about your box swap and link it up with us on

February 14th

!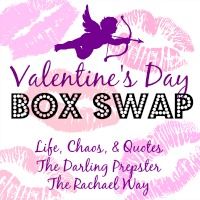 I think that this is going to be a great way to meet other bloggers and plus you get a Valentine no matter what your relationship status is!